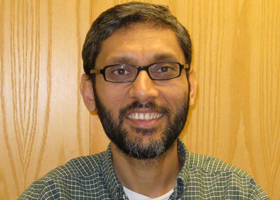 Of late, he's most excited about the potential of enhancing business applications with cloud-aware mobile applications, leveraging social media for the enterprise, and Big Data Analytics.
Basit completed his BS in Computer Science from University of Karachi, and MS in Computer Science from New Jersey Institute of Technology.
Basit has a long tenure of technology leadership for the company, where he has successfully delivered innovative and practical business solutions for a large number of SMB and Fortune 500 clients. He has 15+ years of experience designing, architecting, and managing enterprise data-driven web applications. This includes front-end user-experience design, data modeling and integration, and architecting back-end database and application interfaces using SOA and Web Services. Experienced at absorbing complex business requirements and developing efficient technology solutions, his work has spanned several verticals, with special focus on Telecom, Pharmaceutical, Technology, Research, and Business Services. Basit has designed systems and solutions to meet a diverse set of business needs, such as, Sales and Marketing tools, Configuration, Pricing, Ordering, Customer Care, Data Warehousing, and Content Management.