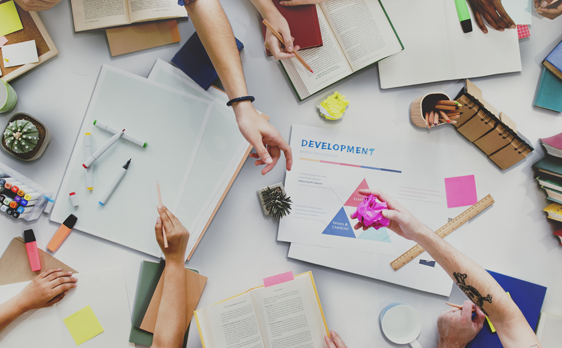 Macrosoft (ACDS)
Macrosoft is a leading service provider for document composition solutions with extensive end-to-end experience. Our highly skilled experts have successfully and seamlessly completed implementations for many clients helping them to achieve higher satisfaction levels and a lower total cost of ownership. Combining business knowledge and technological expertise, our team provides best-in-class solutions to our customers.
Macrosoft's Advanced Composition Development Solutions (ACDS) Team
Combining business knowledge and technological expertise, our team of HP Exstream Software experts provides clients best-in-class solutions in document-centric software development projects. Information about ACDS can be found at www.printcomposition.com.
Capacity Overflow Services
All companies experience peaks and valleys of their business requirements, therefore most of the demand does not maintain an even flow. Be it year-end or other mission critical deadlines, Macrosoft has the established resources and facilities to handle your overflow capacity. Macrosoft's expertise in intelligent document design & composition and "print & mail" processes on a variety of platforms, allows our team to quickly support your operations during peak demand.
How do we meet your peak demands?
Round-the-clock support with cost-effective global delivery model.

With over 150 technical staff in the U.S. and 200 more in development facilities off-shore, Macrosoft provides a global model that delivers services through a combination of off-shore, on-shore, and on-site resources

People-intensive and time-consuming creative work is handled by the off-shore team in a way that is transparent to the client

Around-the-clock development, shortening the time to project completion.

Improve productivity & turn-around time with priority in maintaining brand compliance

Automate time-consuming tasks

Streamline processes ensuring reduction in errors & miscommunication

Increase performance & optimize high-volume output
Conversion to HP Exstream
Macrosoft employs some of the most talented and experienced professionals with extensive print industry knowledge helping our clients convert from legacy environments and software products to HP Exstream Software and empowering them with enhanced & proven solutions.
Why Migrate to HP Exstream
Many proprietary products are reaching end-of-life or expiration of support in the upcoming year

Most of the legacy solutions do not support growing and modern enhanced personalized communications

Proven success in smooth transitions from legacy products such as EZ-Letter and CSF, CompuSet and DOC1, to HP Exstream Software

Eliminate multiple costs & disparate solutions for meeting various communication
What do we convert to HP Exstream?
CSF
DocuMerge
COBOL
DOC-1
ISIS Papyrus
Calligo
EZ-Letter
Autograph
Basically any composition software to HP Exstream Software
HP Exstream Software Version Upgrade
Macrosoft has expertise in performing Version upgrades of HP Exstream Software to equip its clients with enhanced features to meet their communication goals and continue to receive HP Exstream support. Many clients do not have the resources or time to devote to this very important process.
Why Should I move away from my current version?
Support and maintenance of HP Exstream Software Version 4.0 expires on December 31, 2010

Ongoing support and maintenance of HP Exstream Design and Production 5.0, and any related software components, will reach their end-of-life on February 28, 2011

Ongoing support and maintenance of HP Exstream Design and Production 6.0/6.1, and any related software components, will reach end-of-life on August 31, 2011
Why should I upgrade to newer Version
HP Exstream Software 7.0 includes more than 250 enhancements

Support for Complex Interactive and On-Demand Customer Communications

Optimized Remote collaboration

Reduce Cost by Switching to ONE solution

New conversion utilities for migrating from legacy document composition systems such as DocuMerge, DocuMaker and Top Down

Extended support for QuarkXpress and RTF designs

Improved output compare tools for testing

Ability to embed barcodes into automated tables

Wizard-based charting and new chart types

Advanced Function Presentation (AFP) output improvements for color support, outline fonts and DBCS